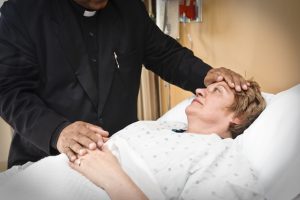 Anointing of the Sick
Please call the Parish Office if you are in need of this sacrament.
Play
2.26.2021 Daily Mass with Fr. Andrew Ricci
... See MoreSee Less
Good to be here this morning. God Bless All today and this weekend! ❤️🙏
For grandchildren struggling with pandemic school changes in their routine....🙏
For those who have no one to pray for them as well as the souls in purgatory.
H & W: Greg and Toni J.; Jessica W.; Scott J.: Missy and her children; Bob B. ; Ruth R.; Marsha, Cindy, Barb C. and Jo S.
Peace Everyone And Be Kind To One Another. 🙏💕🙏.
Thank you for the progressive healing of my foot after surgery.Prayers for my family and friends, all people who ask for prayers and for those people who have no one to pray for them.
On gratitude to David Dusek for leading us in the rosary
Special intentions and for good health, safety and happiness for family and friends. 🙏🏼
Prayers for my daughters and their families.
For my husbands comfort and my peace.
Sister Gavin Darrell Ryan Darin Cliff SD and health and safety of my family and friends. 🙏
Thank you Father Andrew & Father Lee, have a great weekend 😊
For our seminarians and those discerning a vocation to the priesthood
A great homily sometimes it's hard to do but we have to be patient and do it
Grateful for this mass and opportunity to pray for our diocese. God bless.
Good morning. Special blessings for my mom who will be celebrating her 99th birthday tomorrow!
For my family and friends and all I have promised to pray for, for forgiveness, for peace and blessings in our country and the world we pray to the Lord
Prayers for Joyce, Dianne, Bien, Ryan for good health and safety always.
Health and happiness for our family and keep us safe from all harm
Thank you, Fathers and have a good week end.🙏
Thanksgiving, blessings and protection prayers for family and friends and their families
Special intentions for health and healing for family and friends 🙏
Fór all friends & Family who I promise to pray fór them today!
souls of those who have gone before us. Gary,David,Andy.
Prayers that friends traveling will remain safe throughout their trip 🙏🏻